PTA General Meeting "Holiday Blues in the Time of COVID"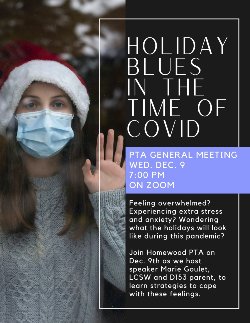 What

PTA General Meeting "Holiday Blues in the Time of COVID"

When

12/9/2020, 7:00 PM

Where

Zoom
Are you feeling overwhelmed? Are you wondering what the holidays are going to look like in the time of COVID? Are you feeling extra stress and anxiety about things that normally wouldn't be on your radar? Are you feeling the weight of the world? Then this is the workshop for you! We will discuss what depression and anxiety look and feel like, strategies to work through your stress, and the toll compassion fatigue takes on us all.
This meeting will take place on Zoom at 7:00 PM. CLICK HERE Wednesday evening to join the meeting. All parents and staff are invited!
About the speaker:
Marie Goulet is an Assistant Director of Special Education at New Lenox School District #122. This is Marie's 2nd year with District #122, and her 9th year working in New Lenox schools. Prior to coming to #122, Marie was the principal of the Mackay Education Center and a social worker with Lincoln Way Area Special Education District #843. Marie holds an LCSW and has worked with children, adolescents, and their families in both clinical and school settings for 18 years. Marie graduated from UIC with her Bachelor Degree in Theater Performance, her Master's Degree in Clinical Social Work from University of Chicago, and her Masters in Educational Administration from Governors State University. Marie is a resident of Homewood and has the best 4th grader in the world who attends Churchill. When not working, you can find Marie spending time with her family and new puppy.

Copy to Google Calendar
•
Download iCal Event